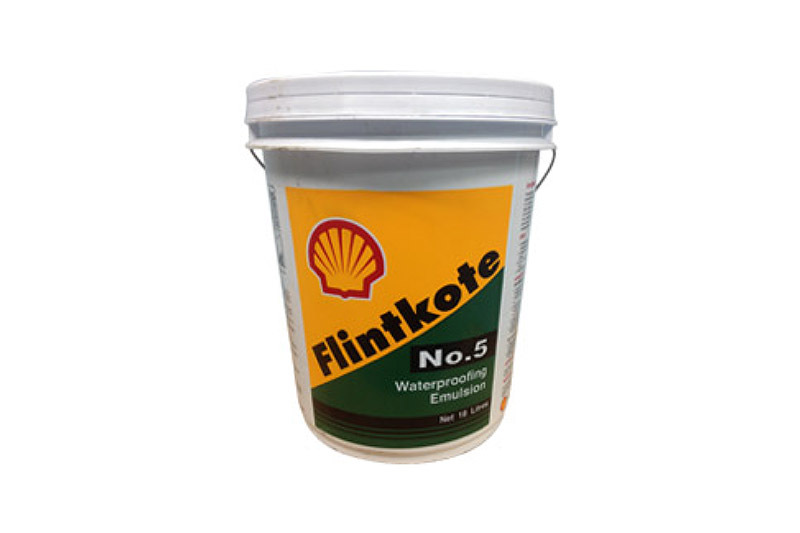 Flintkote 5 bitumen emulsion is a single-pack, fibrated and stable water-borne emulsion which cures to form a firm and flexible bitumen waterproofing membrane. Flintkote 5 is designed for use on horizontal and vertical surface. Flintkote 5 is suitable for use as waterproof membrane on concrete, asbestos cement, roofing felt, mastic asphalt, slates, tiles and metal surface.

(Note: Flintkote 5 is previously marketed under the brand name Shellkote Type 5, Shell Bitumen Emulsion No.5 and Weatherkote Type 5. Product quality and specification remains unchanged.)
Benefits
Easy to apply by brush, trowel and sprayer.
Built-in short fibre enhances the membrane's toughness and durability.
Forms a seamless and lap free membrane over the substrate.
Water-based and non-toxic.
Cures to form a flexible resilient waterproofing barrier over a wide range of temperatures.
No flow or sagging of the film at elevated temperatures even on vertical surface.
Excellent adhesion to the concrete substrate prevents lateral migration of water under.
Can be applied to damp surface without standing water such as green concrete surface.
Uses
Waterproofing
Typical applications will include concrete roofs, asbestos cement roof, exposed metal roofs, rejuvenation of asphalt roof, retaining walls, external concrete walls, above-grade floor slabs, bathrooms, kitchens, balconies and planter boxes.
Insulation
Provides a vapour barrier for cold storage rooms, mushroom houses and similar installations. Suittable for application in food stores.
Concrete Protection
To protect concrete from carbonation, spalling and sulphate attack.
Metal Protection
As a protective coating against corrosion of pipes, structural steelworks and other metallic equipment.